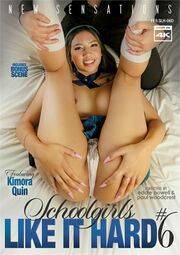 Kimora Quin (born April 10, 2002) is an American pornographic actress.
Quotes
What I love the most about being involved in porn is being an exhibitionist and showing all parts of myself for everyone to see. The vulnerable experience of putting yourself out there is really what continually boosts my confidence in myself and makes me a better person in many different facets of life. I hope everyone gets the opportunity to witness and enjoy me naked, and see that I really really enjoy what I get to do on camera.
What I've enjoyed the most is just being able to have the opportunity to have a lot of fucking fun with yourself and not take life too seriously. And to just go after the things you want in life, because that's what it's truly about. It's making yourself happy. One time this guy ... he was a shittier type of boyfriend and he was cheating on me. I fucked him and the girl he was cheating on me with.
Thank you Bratty Sis for working with me on this scene. I enjoyed working with Oliver for the first time and I felt so naughty seducing him!