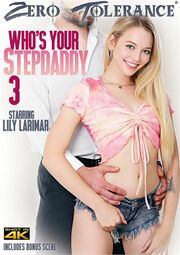 Lily Larimar (born June 30, 1998) is an American pornographic actress.
Quotes
I'm so excited and honored to be COTM! It's been a goal of mine since I started in the industry, and it feels amazing to have accomplished this and be recognized! I had such a fun time on set with Dean & Robby. They are both so positive to work with, and I really hope everyone enjoys what we made together as much as I enjoyed shooting it!
I used to be so shy. I wasn't very outgoing. In grade school I'd worry about what other kids thought of me. Then I started (adult work) and I got nervous. I was like, 'What are people from my hometown—people I'm close with—going to think?' But then at some point, I flipped a switch and said, 'I don't even care what people think. Why am I concerned?' Porn has given me confidence. It's made me feel good about myself. I've got a lot of goals now, and I'm not going to let anything hold me back.
I had a lot of fun shooting this scene with Danny! It was my first time working with him and he kept making me laugh. He was a 10/10 leprechaun!