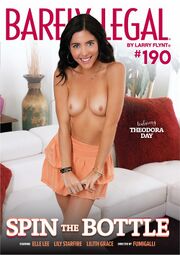 Theodora Day (born July 14, 1996) is an American pornographic actress.
Quotes
Health is vital to success, and being vegan has allowed me to experience the feeling of being truly 'healthy'. Speaking for myself and my body, it's been the best and most positive experience in the world, and it's something I would love to share with others. I have been vegetarian since age 13, and started the vegan path about five years ago. Being vegan has inspired me to one day grow all my own produce in a greenhouse. I am vegan because feeling all around good everyday instead of every once in a while is better than anything.
I am so pleased to be crowned TeamSkeet Allstar, and my first-ever feature film, Deep Analysis, is dropping in the same month! This is a huge moment in my career and makes me feel so proud to be a part of these projects. I'm so grateful TeamSkeet gave me this opportunity to showcase my acting skills. Deep Analysis is not only extremely spicy but offers a complex story and keeps you on the edge of your seat the entire time! I love TeamSkeet so much, and I can't say enough how amazing the experience has been so far.