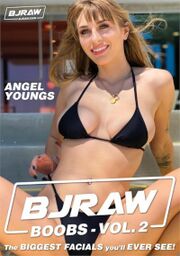 Angel Youngs (born January 15, 2002) is an American pornographic actress.
Quotes
I love working with Branden. I followed him on Twitter, and we would comment on each other posts, and then one day he DM'ed me. He's always been my favorite porn star and I love his dick, so the experience was pretty great.
I love going outdoors. I love trying new things. The other day I went skydiving. I did a tandem dive, but I do want to start doing it by myself. I think that's be real cool. I mean, it's an expensive hobby — but worth it.
I thought it was great. I've been saying this ever since I started trying it on my own—I love it more than anal. It's the best feeling ever. I was ready. I think I've always been kind of ready.
One of my favorite scenes. I tell everyone that I love DP way more than anal and the scene being an hour long proves it. It was so perfect and delicious!