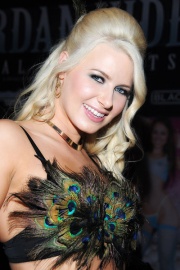 Anikka Albrite (born August 7, 1988) is an American retired pornographic actress.
Quotes
Over the past two years I've been in the industry, I've grown very close with my fans, so I want to dedicate this movie to you guys. I worked very hard on this movie, and I had an amazing, epic experience ... so I hope you enjoy it as much as I did making it.
The only thing I was nervous about was doing it on-camera. The first time I ever had anal sex I was totally nervous, but once I got into it, I could relax and it was great. In this scene there wasn't just one mood. At times it's really rough and aggressive and other times it's sweet and tender. It really was an emotional and physical journey in every sense.
Words cannot describe how amazing d.p.s are. If I could do it every day, I would. It was such a fantastic feeling being filled up. I feel like everybody should try it. It really is the ultimate feel-good drug. There's nothing that compares to it. It was so pleasurable. I honestly feel that if more people did d.p.s, there would be more happy people. That's just what I think.
It was a huge honor to have been given the title of Female Performer of the Year for 2015, and never in my dreams did I think I would be chosen for hosting the awards for 2016. I'm really honored and excited and very nervous. I can't wait to host it with Joanna—I've never worked with her before but I've always admired her, so it's going to be a lot of fun to get up there on the stage with her.