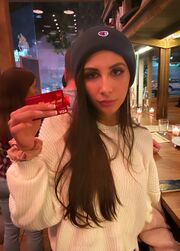 Gianna Dior (born May 12, 1997) is an American pornographic film actress and erotic model.
Quotes
I was determined to do a phenomenal, mind-blowing first anal scene that had chemistry as well as energy. It turned out better than I could've asked for. Markus has always been one of my favorite performers to work with, and he gave me the scene of a lifetime. I'm very pleased with my decision to do my first anal with Evil Angel, and especially with Chris Streams directing. I'm proud of this scene, and I think it was a huge accomplishment and success in my career.
I wanted to find a therapist who was sex-worker positive and I found her online and got to know her very personally. I talked to her multiple times a week and she started sharing a lot of details about her life. The man she was dating at the time just really intrigued me. I've never met anybody who was in that type of relationship and the way she was so open and just shared everything about it.
I never knew exactly what I wanted to do. I was always bouncing around. At one point, I wanted to be a chef. Then, I wanted to be a dental hygienist. And I wanted to be a forensic psychologist. I was just bouncing all around. So right before porn, I was going to school for forensic psychology and working two jobs, including at a sushi restaurant.
Psychosexual was a dream project for me. It's surreal and such an honor that there is a billboard in the middle of Hollywood promoting the film. My experience working with Vixen Media Group has been absolutely incredible and I'm so grateful to the studio for all of the love and support I've received along the way. We did it!
Quotes about Dior
Gianna is a joy to work with and we think that really comes through in the scene. She obviously has the looks to be one of the most popular performers in the adult industry, but her professionalism and commitment to quality is going to take her places. We're already looking forward to the next time we get to work with her.
I still remember the first time I laid eyes on Gianna. I was sitting on her agent Mark Spiegler's couch. He tossed me his phone to show me a new girl who was driving across the country to start her professional career in Los Angeles. From that first photo, I knew Gianna had the look to be a superstar. But did she have that special sexual drive to take her to the top level? After watching her shoot this first anal scene, I thought back to that moment and realized she had completed the package. We look forward to watching Gianna continue to grow as a performer. Thank you, Gianna, for all the hard work you put into the making of this project!
I am so honored that Gianna trusted me with this project and so proud of the final result. Seeing our work on a billboard is both surreal and validating. Vixen Media Group is constantly redefining what it means to be in the adult space and it's been amazing to be a part of that.